Services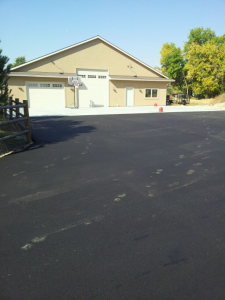 New Paving
Transforming a dirt or gravel base to a beautiful asphalt surface. Pro Paving LLC will expertly engineer a paving design to best suit your application.
Chip & Seal Our Speciality
This method is the oldest form of asphalt paving dating back to Roman times. Hot liquid asphalt is applied through a computerized distributor covered using washed gravel or stone in multiple layers rolled for compaction. This is a environmentally friendly asphalt and the final coloring can be natural rock but with all the benefits of asphalt. This method is very durable and this job is normally half the cost of other paving methods. Can be restriped. Excellent for new construction or re-surface. Please call for specs.
 Replacement
We remove failed and broken concrete or asphalt driveways and replace with new, hot asphalt driveways.
Repairs
Remove and replace failed asphalt and replace with new, hot asphalt. This could include potholes, alligatored areas, and utility cuts.
Overlay/Overlaying
To place hot asphalt over an existing asphalt or concrete surface. This could be preceded by milling, application of tack coat or other operations. Call for size details.
Pro Paving LLC for the following:
Chip Sealing
Grading And Gravel Work
Patching And Speed Bumps